Midtøsten rister fortsatt fra avtaler som ble gjort under første verdenskrig for hundre år siden
Middle East still rocking from first world war pacts made 100 years ago
The agreements that shaped the region may be forgotten in the west, but in the Middle East their significance still looms large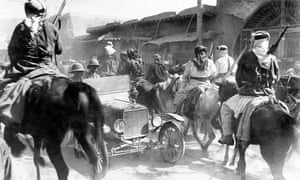 In an idle moment between cocktail parties in the Arab capital where they served, a British and French diplomat were chatting recently about their respective countries' legacies in the Middle East: why not commemorate them with a new rock band? And they could call it Sykes-Picot and the Balfour Declaration.
It was just a joke. These first world war agreements cooked up in London and Paris in the dying days of the Ottoman empire paved the way for new Arab nation states, the creation of Israel and the continuing plight of the Palestinians. And if their memory has faded in the west as their centenaries approach, they are still widely blamed for the problems of the region at an unusually violent and troubled time.
Les resten:
Middle East still rocking from first world war pacts made 100 years ago
China's New 5th Generation Jet Rumored to Have Entered Production
Nasrallah and Netanyahu exchange threats over Hezbollah commander's death in Damascus
Offisielle talsmenn i USA: Russland beseiret Nye verdensordensagenter og satanister i 2015
 U.S. Officials: Russia Defeated NWO Agents and Satanists in 2015
By Jonas E. Alexis on December 30, 2015
U.S. official: "I think it's indisputable that the Assad regime, with Russian military support, is probably in a safer position than it was."
Business Insider, a Zionist outlet which usually finds a subtle way to lambast Vladimir Putin and which has perversely misrepresented my good friend Professor Denis Rancourt[1] (a stellar physicist, climatologist and medical doctor who has published over 100 articles in scientific journals and who is now doing intensive research on cancer[2]), has recently reported that U.S. officials have conceded defeat in 2015. It stated:
"Three months into his military intervention in Syria, Russian President Vladimir Putin has achieved his central goal of stabilizing the Assad government and, with the costs relatively low, could sustain military operations at this level for years, U.S. officials and military analysts say.
"That assessment comes despite public assertions by President Barack Obama and top aides that Putin has embarked on an ill-conceived mission in support of Syrian President Bashar al-Assad that it will struggle to afford and that will likely fail.
"'I think it's indisputable that the Assad regime, with Russian military support, is probably in a safer position than it was,' said a senior administration official, who requested anonymity. Five other U.S. officials interviewed by Reuters concurred with the view that the Russian mission has been mostly successful so far and is facing relatively low costs."[3]
Les resten:
Shot in the Foot, Russia Today's Gaff on NSA Spying
CIA-Mossad Party Animal Caught in Iraq
[ Editorial note:
 Tarkhan Tayumurazovich Batirashvili, if he is really in custody, is the prize here.  He is an Israeli and CIA trained security officer with the Georgian secret police who has had a colourful career with the acting troup known as ISIS.  Known by the stupid made up Islamic sounding name of Al Sheshanny, Batirashvili is known to be ISIS best "party dude."
…

GD

]
 ____________
TEHRAN (FNA) – ISIL Leader Abu Bakr Al-Baqdadi's chief of staff has been killed in an airstrike in Northern Iraq, media reports said on Tuesday. Al-Baqdadi's office director was killed in a bombing raid in Hay al-Maleki region in Mosul city on Tuesday, Arab media outlets reported.
No further detail has been released about the identity of Al-Baqdadi's slain chief of staff.
Earlier today, the Iraqi forces captured the so-called financial minister of the ISIL in the city of Ramadi in Anbar province.
The senior ISIL leader was hidden among 414 Iraqi refugees in Anbar province, but was identified and apprehended by security forces. The security forces did not reveal the identity of the captured terrorist leader.
Les resten:
CIA-Mossad "Party Animal" Caught in Iraq – CIA-Mossad "partyløve" fanget i Irak
TRUTH JIHAD: Here's how I disrupted Trump's speech with ISRAEL DID 9/11!
Killing Our Kids, When Police Won't Shoot Them, We Can Poison Them Instead
Sør-Afrika og Winnie Mandelas handlinger, og Nobelprisvinneren Clerk:
Om kommunisten Nelson Mandela, ANC, kommunistpartiet og voldelige overgrep og drap:
Den forferdelige sannheten om Nelson Mandela – The awful truth about Nelson Mandela
http://www.veteranstoday.com/2014/02/21/the-awful-truth-about-nelson-mandela/
Webinar – Serving Women Veterans and Veterans Fleeing Domestic Violence
Bastards! Andre Vltchek Pens Hate-Filled Screed Against Christianity
Russia's Amazing Disguised Defense Systems – Russlands utrolige, skjulte forsvarssystemer
Turkey's Dangerous Game in Syria, What Erdogan Should Do to Exit Isolation
Gordon Duff is a Marine combat veteran of the Vietnam War. He is a disabled veteran and has worked on veterans and POW issues for decades.
Gordon Duff is an accredited diplomat and is generally accepted as one of the top global intelligence specialists. He manages the world's largest private intelligence organization and regularly consults with governments challenged by security issues.
Gordon Duff has traveled extensively, is published around the world and is a regular guest on TV and radio in more than "several" countries. He is also a trained chef, wine enthusiast, avid motorcyclist and gunsmith specializing in historical weapons and restoration. Business experience and interests are in energy and defense technology.
He is co-host of the popular VT Radio show Jim and Gordie Show.
Visit Gordon Duff's YouTube Channel
Feilinformasjon: Tyrkia setter fjerning av Gaza-blokkaden som vilkår for å gjenoppta bånd med Israel
Disinformation: Turkey sets lifting Gaza blockade as condition for resuming ties with Israel
By Gordon Duff, Senior Editor on December 29, 2015
[ Editor's note:  I nearly laughed myself to death reading this, the result of Barzani's trip to visit Erdogan, a deception piece in the Kurdish state controlled press.  Reminds me of the Israeli videos of the armed "attackers" on the Mavi Marmara.
In the videos, people were walking through walls, a poor CG animation that is still being peddled through the controlled media.  As for Turkey, Erdogan and Netanyahu have had their heads up each others asses for years… Gordon Duff ]
Disinformation: Turkey sets lifting Gaza blockade as condition for resuming ties with Israel
The Debate: Latest developments in Syria -with Jim W. Dean
Amerika spiller krigsspill "Ta igjen" –
America Plays Wargame Catchup
By GPD on December 29, 2015
F-22, Typhoon, Rafale: Lessons From The Trilateral Wargame
Editor's note:  This is an important article, delusional, but important, predicated on the concept that America's long discredited foreign policy, the love of hegemony and terror groups, has moral relevance.
By ROBBIN LAIRD, ED TIMPERLAKE and MURIELLE DELAPORTE
SouthFront: Multirole Naval Platforms of the 21st Century
SouthFront: Syria-Iraq battlespace, Dec. 29, 2015
How did America Become so Great? -Hvordan ble Amerika så stor(-t)?Erdoğan and NATO Are Really Screwed—Another New World Order Defeat 
Jonas E. Alexis graduated from Avon Park High School, studied mathematics and philosophy as an undergraduate at Palm Beach Atlantic University, and has a master's degree in education from Grand Canyon University.
Some of his main interests include the history of Christianity, U.S. foreign policy, the history of the Israel/Palestine conflict, and the history of ideas. He is the author of the new book ,Christianity & Rabbinic Judaism: A History of Conflict Between Christianity and Rabbinic Judaism from the first Century to the Twenty-first Century.
He is currently teaching mathematics in South Korea. He plays soccer and basketball in his spare time. He is also a cyclist. He is currently writing a book tentatively titled Zionism and the West.
Alexis welcomes comments, letters, and queries in order to advance, explain, and expound rational and logical discussion on issues such as the Israel/Palestine conflict, the history of Christianity, and the history of ideas.
In the interest of maintaining a civil forum, Alexis asks that all queries be appropriately respectful and maintain a level of civility. As the saying goes, "iron sharpens iron," and the best way to sharpen one's mind is through constructive criticism, good and bad.
However, Alexis has no patience with name-calling and ad hominem attack. He has deliberately ignored many queries and irrational individuals in the past for this specific reason—and he will continue to abide by this policy.
Erdoğan and NATO Are Really Screwed—Another New World Order Defeat
Putin to Turkish ambassador: "Tell your dictator president he can go to hell along with his ISIL terrorist and I shall make Syria to nothing but a 'Big Stalingrad.'"
Erdoğan and NATO and even the Zionist state in America continue to bleed and smell like a rotten corpse. If you have not smelled that corpse yet, then you have not been paying much attention to current events.[1]
Both Erdoğan and NATO have deliberately made a diabolical deal with the New World Order and with ISIS,[2] and now they find themselves morally and politically naked in front of the entire world. Even Turkish journalists and intellectuals are now observing that their government has betrayed them.[3] Gordon Duff has recently reported that:
"Turkey is training Islamic State terrorists in a camp disguised as a training ground for the Free Syrian Army, a 20-year-old jihadist captured by the Kurdish YPG told Sputnik."
This is not farfetched at all. Listen to this:
Erdoðan and NATO Are Really Screwed – Another New World Order Defeat